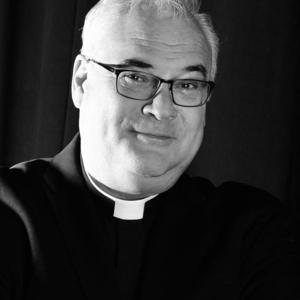 Fr. David L. Guffey, C.S.C.
Special guest
In addition to managing the day-to-day operations at Family Theater Productions, David Guffey, C.S.C., produces, directs and writes films for the organization. He has received Gabriel, Telly and New York Festival awards for films he has written or produced. For Family Theater Productions, he worked on "The Dating Project," "You Will See," "Finding Mary," "40 Hours," "Family Dinner" and "Down from the Mountaintop." Father Guffey directed and wrote the script for "40 Hours" based on his experiences working at Andre House of Hospitality, a center for service to the poor and homeless in Phoenix. While at Andre House, he helped turn a 25,000-square-foot warehouse into a center of hospitality that served free meals, offered clothing and provided job training. He received his BA in American Studies, Master in Divinity (Theology) from the University of Notre Dame, and an MFA in Film Production from Loyola Marymount University, where his thesis film "The Last Deal at the Mount Carroll Gun Club" was selected for the Beloit Film Festival, Milwaukee Short Film Festival, Redemptive Story Telling Festival and International Family Film Festival. Father Guffey serves on the boards of Ave Maria Press, University of Portland and Catholics in Media Associates. He is a member of Film Independent and The Catholic Press Association. He lives and serves in residence at St. Monica Parish in Santa Monica, Calif.
Fr. David L. Guffey, C.S.C. has been a guest on 1 episode.
October 8th, 2020 | 24 mins 53 secs

csc, film, holy cross, movies, peyton, radio, venerable

Fr. Guffey is National Director of Family Theater Productions and the executive producer of the new film "PRAY: The Life of Patrick Peyton"