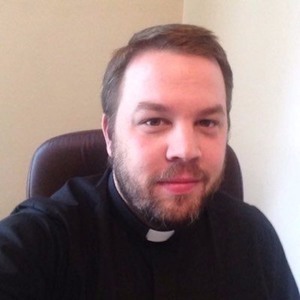 Fr. Harrison Ayre
Special guest
Fr Harrison was born and raised near Vancouver, BC. Having decided that he needed to get out of dodge, he decided to move to Vancouver Island to go to the University of Victoria to study computer science. But computers, it turns out, are boring. In the midst of his third program - philosophy - he had a profound conversion experience which turned his life to focus on Jesus.
Fr. Harrison Ayre has been a guest on 2 episodes.
June 23rd, 2022 | 31 mins 15 secs

book, faith, priest, sacraments

Fr. Ayre is pastor of St. Peter's Parish in Nanaimo, British Columbia, co-host of the award-winning "Clerically Speaking" podcast, and author of the new book "Mysterion: The Revelatory Power of the Sacramental Worldview."

November 13th, 2019 | 23 mins 29 secs

podcasting, social media, theology

We chat with Sr. Theresa Aletheia Noble, FSP of the Daughters of St. Paul, and Fr. Harrison Ayre and Fr. Anthony Sciarappa of the Clerically Speaking podcast about friendship in the digital age and the use of social media in pastoral ministry.